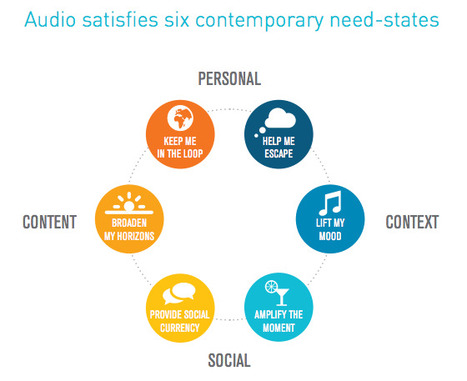 The RAB's new research project Audio Now has been released. The study used a mixture of quantitative and qualitative data as well as expert opinion from Les Binet to develop a wider understanding of the evolving audio market and what this means for advertisers.
Here's a summary of the key points.
1. Audio consumption is growing
The audio market is changing thanks mainly to new technology, increased ownership of connected devices and the fact that most audio content is device neutral. The rise of "on-demand" services also mean that people now have more choice than ever before – almost any type of audio is accessible anywhere and at any time of the day. Along with the growing audio ecology, lifestyle has also changed but audio is still able to satisfy the pressures of modern life. It's for this reason that audio now reaches more people than ever before with total hours listened to each week growing by 6% from Autumn 2012, and are now closing in on 1.5 billion hours a week.
2. Radio remains incredibly relevant within this new audio ecology
Due to the changing modern technologies a third form of audio has emerged alongside radio and owned music – "on-demand". This includes non-live radio content, streaming services and online audio/video clips. Although on-demand audio has grown in recent years, it has not cut into radio consumption, which has remained stable and has held its position as the dominant format with 90% of adults tuning in every week. Even 15-24s who are the biggest users of "on-demand" audio still see radio as a central part of their audio experience. The reason for this being that radio is able to meet the need states created by the pressures of modern life.
3. On Demand audio is complementary
These 6 need states were drawn out of the qualitative element of the research:
Lift my moodHelp me escapeAmplify the momentProvide social currencyKeep me in the loopBroaden my horizons
Both "on-demand" audio and live radio together are responsive to all of these need states. Radio is able to satisfy all 6 whereas "on-demand" is responsive to 5 of the 6 (excluding "Keep me in the loop"). Different need states are met more primarily by certain audio formats, for example live radio is most prevalent for "lift my mood". Across all six of the need states on-demand audio and live radio are seen to be incredibly complementary to each other in being able to satisfy the pressures of modern life.
4. For advertising purposes it should be live commercial radio PLUS on demand audio
From an advertising perspective live radio still remains the dominant commercial audio format, even for listeners 15 -24. If we exclude non-commercial formats such like BBC radio and podcasts and subscribers to streaming services, live radio continues to be the key audio format for reaching an audience with your message – accounting for 71% of commercial audio for 15–24s and 93% for 25+ adults.
5. Audio advertising is very powerful and shouldn't be undervalued
Supply and consumption of audio are both increasing and audio advertising shouldn't be undervalued. Les Binet explained that the use of radio can increase the fame effect by over 10% and increases advertiser profit margins by over 25%. Whilst it is clear that audio advertising adds substantial value, radio only takes 6% of all display advertising despite it accounting for 22% of all time people spend with media (Source: IPA TouchPoints 5). This suggests that the advertising industry is underinvesting in audio advertising and missing opportunities to increase fame, ROI, profits and sales efficiency!
If those five main headlines have piqued your interest then head on over to our Audio Now microsite where you can find more details, the full report, slides from yesterday's presentation and video clips from the qualitative research all available for you to download here: http://goo.gl/qXB0Kv