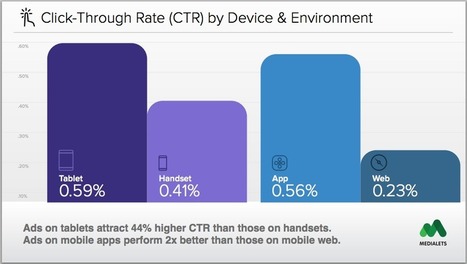 Even as mobile ad revenues skyrocket at sites such asFacebook and Twitter TWTR +0.65%, the little banners still don't work as well as they could–or so goes thewidespread perception. But a new study out this morning from the mobile ad serving and tracking firmMedialets indicates that they work better than many advertisers thought.
What surely hasn't worked is the ability to connect the dots between clicks and views on a smartphone or tablet with "conversions," adspeak for getting people to buy something, download an app, apply for a credit card or simply click over to a web page. Unlike on standard computers, the identifiers called cookies mostly don't work on mobile devices.
So Medialets, which works with many of the largest publishers from Google GOOGL +0.22% to the New York Times as well as mobile ad firms Millennial Media MM +0.85% and Twitter-owned MoPub, uses other means (if you must know,HTML5 local storage and hardware advertising identifiers) as well as what few cookies it can use to track ad response with what it claims is 85% of the accuracy of cookies on computers.