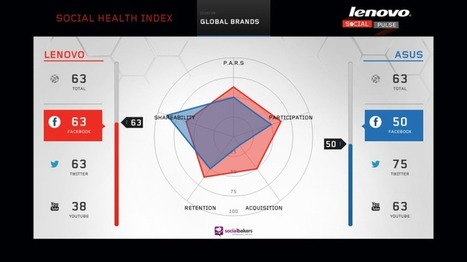 How healthy are your business' social media efforts? It's a simple question with few simple answers, often leading down a rabbit hole of analytics data.
Socialbakers believes it can help businesses out of that hole. Today the social media analytics and optimization company announced the release of the Social Health Index, developed in partnership with Lenovo, one of its customers.
The index, which is available to Socialbakers customers through its executive dashboard, tracks a business' social activity across multiple social networks, giving it ratings in four categories:
Participation – in a social conversationAcquisition – of new fans and followersRetention – of those fans and followersSharability – of content you publish or curate
From those components, Socialbakers calculates health index numbers — on a 100-point scale — for Facebook, Twitter and YouTube and for the overall effort. (To account for big fluctuations or one-off spikes, the company bases the ratings on the median value of each element).