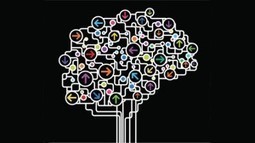 When asked why he became a scientist, Nobel Laureate Isidor Rabi attributed his success to his mother. Every day, she would ask him the same question about his school day: "Did you ask a good question today?"
"Asking good questions – made me become a scientist!" Rabi said.
Questions are critical, and how to manage and navigate a good question requires practice.
The hardest part about using design thinking in class is getting the question right and staying in the question. Educators regularly notice how challenging it is for students to stay in the question. Student conversation can veer off track and the students can lose focus. It takes discipline for students to learn how to dig deep with focus on a design question.
For teachers, in designing learning experiences for students that are embedded with technology, the wording and focus of the question are paramount. The question needs to be deeper than simply "Should or shouldn't we use the iPad with this project." The question needs to be open ended, elastic and invite multiple interpretations. Learning outcomes based on the question need to be defined and articulated, and experiences to achieve those outcomes need to be created with student engagement in mind. Engagement alone is not enough. But engagement matched with outcomes around a carefully worded question propels student learning.
Via
Cheryl Frose