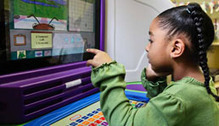 The appeal of technology can lead to inappropriate
uses in early childhood settings. Technology and media are tools that are effective only when used appropriately. The appeal of technology and the steady stream of new devices may lead some educators to use technology for technology's sake, rather than as a means to an end. Technology should not be used for activities that are not
educationally sound, not developmentally appropriate, or not effective (electronic worksheets for preschoolers, for example). Passive use of technology and any type of screen media is an inappropriate replacement for active play, engagement with other children, and interactions with adults. Digitally literate educators who are grounded in child development theory and developmentally appropriate practices have the knowledge, skills, and experience to select and use technology tools and interactive media that
suit the ages and developmental levels of the children in their care, and they know when and how to integrate technology into the program effectively. Educators who lack technology skills and digital literacy are at risk of making inappropriate choices and using technology with young children in ways that can negatively impact learning and development.
Via
Jonathan Jarc