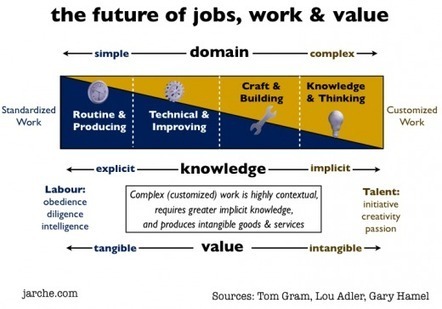 "...automation is replacing most routine work. That leaves customized work, which requires initiative, creativity and passion. Valued work, and the environments in which it takes place, is becoming more complex. Professionals today are doing work that cannot be easily standardized.
"In complexity, we can determine the relationship between cause and effect only in retrospect. Think about that. It puts into question most of our management frameworks that require detailed analysis before we take action. It also shows that identifying and copying best practices is pretty well useless.
"In complex work environments, the optimal way to do work is to constantly probe the environment and test emergent practices. This requires an engaged and empowered workforce. Emergent practices are dependent on the cooperation of all workers (and management) as well as the free flow of knowledge.
"Work in complex situations requires a greater percentage of implicit knowledge, which cannot be easily codified. Research shows that sharing complex knowledge requires strong interpersonal relationships. But discovering innovative ideas usually comes through loose social ties. Organizations need both, and communities of practice can help to connect tight work teams with loose social networks. Communities of practice can provide a safe space for professionals to challenge each other at the cutting edge of their expertise.
"Effective organizational knowledge-sharing for this new world of work needs individuals who are adept at sense-making. One framework for this is personal knowledge management."
Via
Jim Lerman