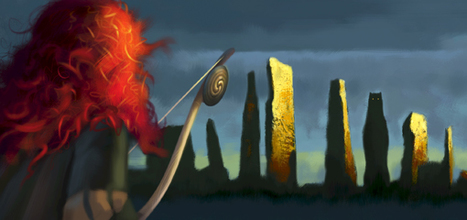 Pixar announced the cast and released concept art for its 2012 summer movie, "Brave" earlier today. As long-rumored, "Brave" will be Pixar's first film with a female lead (finally). A fine, fine cast once again. (Interestingly, original lead, Reese Witherspoon bowed out, and was replaced by an authentic Scottish actor, Kelly Macdonald.)
BTW, I'd heard of several Craig Ferguson "sightings" around San Francisco over the last year...now we know the reason why...

Entertainment Weekly: "Pixar announces cast and concept art for Pixar's summer 2012 movie Brave. The film...is set to mark big changes for Pixar, as it is both their first traditional fairytale and their first motion picture featuring a female lead.

Brave is set in the mystical Scottish Highlands, where Merida is the princess of a kingdom ruled by King Fergus (Billy Connolly) and Queen Elinor (Emma Thompson). An unruly daughter and an accomplished archer, Merida one day defies a sacred custom of the land and inadvertently brings turmoil to the kingdom. In an attempt to set things right, Merida seeks out an eccentric old Wise Woman (Julie Walters) and is granted an ill-fated wish. Also figuring into Merida's quest — and serving as comic relief — are the kingdom's three lords: the enormous Lord MacGuffin (Kevin McKidd), the surly Lord Macintosh (Craig Ferguson), and the disagreeable Lord Dingwall (Robbie Coltrane)."