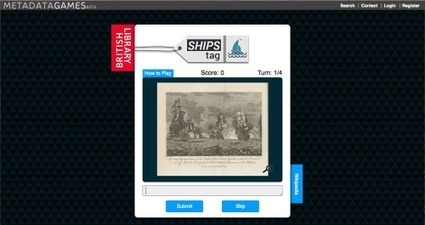 Tiltfactor is proud to announce a new collaboration with the British Library! To celebrate, Tiltfactor's Metadata Games project will launch the new tagging game Ships Tag as part of a tag event called May Day! May Day! starting midnight on May 1st.
The collaboration between the British Library and Tiltfactor presents an innovative way for public users to explore and tag the British Library' collection of over a million public domain images which were posted onto Flickr Commons in December 2013. By playing Ships Tag, players produce in-game tags which directly contribute to the Library's content knowledge. This not only helps the British Library augment its metadata, but it also greatly expands the collection's accessibility for public research, reuse, and repurposing. The entire collection, whose subjects range from intricate maps, geological diagrams, charts, illustrations, landscapes and more, is an amazing opportunity for players to be a part of the process of organizing this vast online collection
Tiltfactor is a game research lab at Dartmouth College. Its work is centered on critical play, an approach that uses games and play to investigate and explain ideas. Outcomes from the lab's work range from scholarly papers and conference presentations to video games, urban games, board games, and performances.