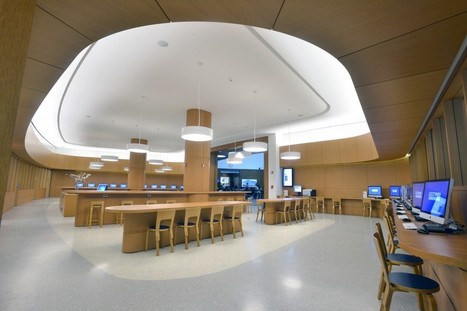 Amid all the riches of New York City's three fantastic public library systems, the Info Commons is the first of its kind– an integrated learning venue with separate sections for individual work, private meetings, and public classes and workshops. It fits in with BPL's recently-released strategic plan, which emphasizes education and access, among other pillars of service.
The Info Commons consists of the main workspace, a training lab, and seven reservable
meeting rooms, one of which is set up as a recording studio for video and audio projects. The workspace offers PC and Mac desktop computers with a number of creative software programs, plus lots and lots of outlets for laptop users. The meeting rooms can be used by patrons for gatherings not limited to study groups, book discussions, and meetings, and we've also moved some library-led programming into them, such as one-on-one resume help and language conversation groups. This is the first time BPL has been able to offer these kinds of meeting spaces to our public!