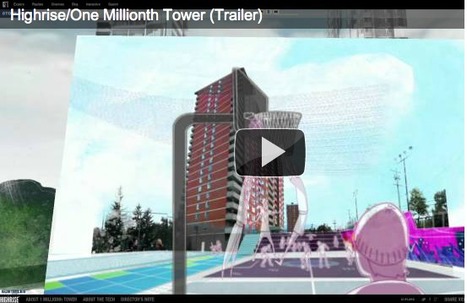 "A new web technology is promising to do for video what the internet did for text.

Called Popcorn, it brings interactivity to video so that, as the video is playing, other things can be synchronised with it such as explanatory text, links to Google maps, photos, other videos.
The possibilities of this technology are endless.
Although similar functionality could be partially achieved using a closed environment such as Flash, Popcorn uses a new standard called HTML5, which is built directly into the browser.
To explore the potential of the technology, Canadian director Katerina Cizek used Popcorn.js together with a 3D graphics technology called Web GL to create a new documentary.

Called One Millionth Tower, the film explores how two high-rise towers in Toronto could be "re-imagined" by the tower residents, architects and animators.
The web-based documentary allows the user to explore a simple 3D environment and click to view one of six narratives. The environment you see is linked to the weather in Toronto at the time you are watching – so if the sky is overcast there, it will be overcast on your screen.
The narrative segments are linked to Wikipedia articles and Flickr photographs that update as people upload more photos.
The documentary itself was made without much video, relying instead on photos provided by the residents of the tower and recordings of their comments.
...
Because the documentary is essentially a 3D virtual environment, the viewer gets to control aspects such as the camera (viewing) angle.

The project was built using entirely open-source tools. The code for the documentary is available for anyone to browse, re-use or re-purpose."

Find out, a lot more, here: http://technologyspectator.com.au/industry/media/bringing-zing-web-video

Via
Robin Good
,
Giselle Pempedjian