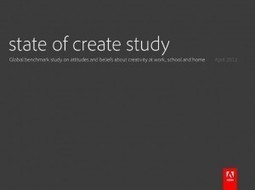 Mike Brown looks at the Adobe "State of Create Study" [which] polled 5,000 people across the US, UK, Germany, France, and Japan regarding their perspectives on creativity across multiple dimensions of society.
The last slide >> "Social media plays a minor role, if any, in motivating people to create." Across the global study, only 11% of respondents said social media plays a "great deal" of a role in their creative motivation.
"Huh?
"If that's the case, people around the globe are really missing out on the incredible new opportunities for creative motivation presented by online and social media resources.
Via
Jim Lerman