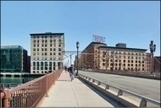 Startups spurn Innovation District as rents rise...
Well now, innovation becomes a high rent district? Since when did courting start-ups go with raising the rents by 40 percent in the last year?
Boston, now really!
Excerpts:
The issue, however, had more to do with the terms of the lease than with price, he said. Landlords in the Innovation District were looking for leases of two years or more, which isn't reasonable for fast-changing startups, Vigeant said.
Case in point: Tracelytics announced today that it has been acquired by a fellow Boston tech company, AppNeta.

Abroad101, which had been based in the Innovation District at the MassChallenge office for the past two years, also opted to focus on other parts of the city in the search for their new office, president Mike Stone said. The startup settled on an office on South Street in the Leather District, which the company moved into this week.

In a tweet Wednesday, Erica Farthing, event producer at event planning company Assembly Boston, summed up the situation this way: "Confused why the Fort Point 'innovation district' is now priced too high for most start ups. Riddle me that!"