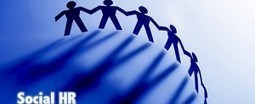 Is it finally time for Social HR? What's out there that uses social systems to revitalize how people are recruited and learn, grow and develop within organizations?
If organizations tend to be hidebound against change, Human Resources (HR) is even more so, in spite of the trendy strategic HR spin of the early 2000's . Consider HR's roots, which persist today: labor relations, compensation, employment/personnel and the number of lawyers on staff.
Here's some fresh thinking about embracing social as a new definer of HR systems from Gautam Ghosh.
Excerpted, adapted:
Recruitment: HR has been quick to leverage social media to "Broadcast" vacancies. The next level would be actively creating and nurturing communities of practice shaped around skills where hiring managers can gauge level of skills of people and also develop them (Disclaimer: The author works with BraveNewTalent, a platform that helps organizations do that)
Knowledge Sharing: Forget the idea of databases acting as "repositories" of knowledge, internal social networks can capture employees work activity as social intranets – and team members can follow what others are doing on their activity streams. Newer tools like Opzi and MindQuilt can also emerge as a enterprise version of Quora, the popular Q&A site.
HR policies: Using a social tool which leverages crowdsourcing ideas from employees can help HR in co-creating processes and policies – and raise acceptability when they are finally rolled out. Dell's EmployeeStorm is a great example by which employees give ideas on everything in the company.
From the autho, Gautam Ghosh, a Product Evangelist and India Marketing Lead at BraveNewTalent specializing in the areas of HR, organization development and learning and employee engagement. He has worked as a HR Generalist and a Learning and Development Executive in firms like Deloitte, Dell, Hewlett Packard and Satyam Computer Services."