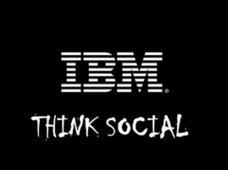 Today's Big Blue is the antithesis of Big Brother. It's 'Big Open'. That's why IBM — not Apple — represents the future workplace.
IBM: Now a transparent, nimble, collaborative organization known more for listening and engaging customers than for dictating to them. While ironically, some say Apple now resembles Big Brother given their propensity for tight controls.
While Apple has been wildly successful, Fortune's Adam Lashinsky describes as Apple's genius led, culture of fear.
For the genius is always, as Benjamin Disraeli and later Peter Drucker predicted, succeeded by a "lieutenant of Marines" who understands the business but nothing else. So the company is only left with an innovation vacuum.
In IBM's social business culture, the genius lies in the 400,000 employees who are free to create circumstances that enable their associates to build on each other's ideas, fostering innovation through co-creation with its employees, suppliers, partners and customers.
Remove one genius, and there are thousands more in the network to fill the vacuum.
Deb: This is compelling. Do you agree? Meanwhile, how about those Steve Jobs dolls (Apple approved)?