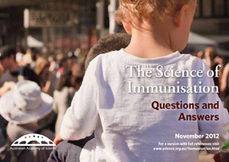 The Science of Immunisation: questions and answers
This publication aims to address confusion created by contradictory information in the public domain. It sets out to explain the current situation in immunisation science, including where there is consensus in the scientific community and where uncertainties exist.
The document is structured around six questions:
1 What is immunisation?
2 What is in a vaccine?
3 Who benefits from vaccines?
4 Are vaccines safe?
5 How are vaccines shown to be safe?
6 What does the future hold for vaccination?
The Science of Immunisation: Questions and Answers was prepared by a Working Group of eight members, co-chaired by Professors Tony Basten AO FAA FTSE and Ian Frazer AC FAA FRS FTSE. The document was also reviewed by an Oversight Committee chaired by Sir Gus Nossal AO CBE FAA FRS FTSE.
Link to de low resolution booklet:
http://www.science.org.au/policy/documents/AAS_Immunisation_FINAL_LR_v3.pdf
Link to the high resolution booklet:
http://www.science.org.au/policy/documents/AAS_Immunisation_FINAL_HR_v3.pdf