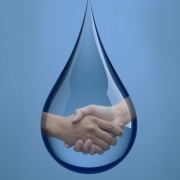 Sure, water is in great demand — but that doesn't mean supply is a zero-sum game among neighboring countries, an MIT professor says in a new book.
Info text for use with a segment of the dystopian novel The Water Wars in which water is hoarded by the few upstream, the land is parched, crops are all dead and the US is a wasteland. The effect on humanity's interactions with each other in this book are noteworthy; the book as a whole is not that remarkable, but the picture painted is one possible credible future.
Unit could start with an opinionnaire of T/F questions regarding their beliefs about the current water situation in the world and its severity, and our responsibilities regarding water use.
Perhaps after reading this info text and responding to it and another news article about water shortages in the world, students could write a narrative describing how their everyday life would be affected by a severe water shortage in the future. Then read an excerpt from The Water Wars and compare the author's version of this future with their own. Follow with the same opinionnaire and see if opinions have changed.