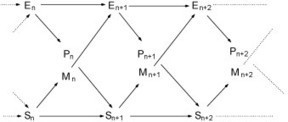 We present a tentative proposal for a quantitative measure of autonomy. This is something that, surprisingly, is rarely found in the literature, even though autonomy is considered to be a basic concept in many disciplines, including artificial life.
We work in an information theoretic setting for which the distinction between system and environment is the starting point. As a first measure for autonomy, we propose the conditional mutual information between consecutive states of the system conditioned on the history of the environment. This works well when the system cannot influence the environment at all and the environment does not interact synergetically with the system. When, in contrast, the system has full control over its environment, we should instead neglect the environment history and simply take the mutual information between consecutive system states as a measure of autonomy.
In the case of mutual interaction between system and...