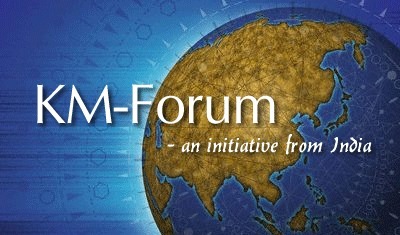 KM-Forum: Knowledge Management Forum - [KM-Forum]
Join at http://tech.groups.yahoo.com/group/KM-Forum/
Dear KMers,
We invite you to join KM-Forum and share your thoughts with other professionals in Knowledge Management (KM) and Library and Information Science (LIS) globally.
This e-group brings together all the global KM and LIS practitioners, consultants, and leading experts. The group endeavors to provide a common platform for the members to share their on-going experiences, thoughts, success and failures and other information regarding KM.
Come join us! Share your experiences, best practices, concerns and innovative ideas in ongoing discussions. Together let us learn how to evaluate practices, add value, enhance performance and profitability by choosing best practices and re-using that fit our situations and organizations.
Hope to see lots of discussions happening in this forum.
Happy Gyan sharing !!!
Join KM-Forum on
Twitter <http://twitter.com/KM_Forum>
LinkedIn <http://www.linkedin.com/e/gis/51694/7E841D17DC4F>
Facebook <http://www.facebook.com/group.php?gid=12654393321&amp;amp;amp;amp;gt;
Orkut <http://www.orkut.com/Community.aspx?cmm=11328789&amp;amp;amp;amp;gt;
Ning <http://kmforum.ning.com>
Refer
KM Cyberary: http://kmcyberary.web.officelive.com
KM-Forum: http://tech.groups.yahoo.com/group/KM-Forum
My Social Sites: http://xeesm.com/BhojarajuGunjal
Via
Bhojaraju Gunjal
,
Dolly Bhasin