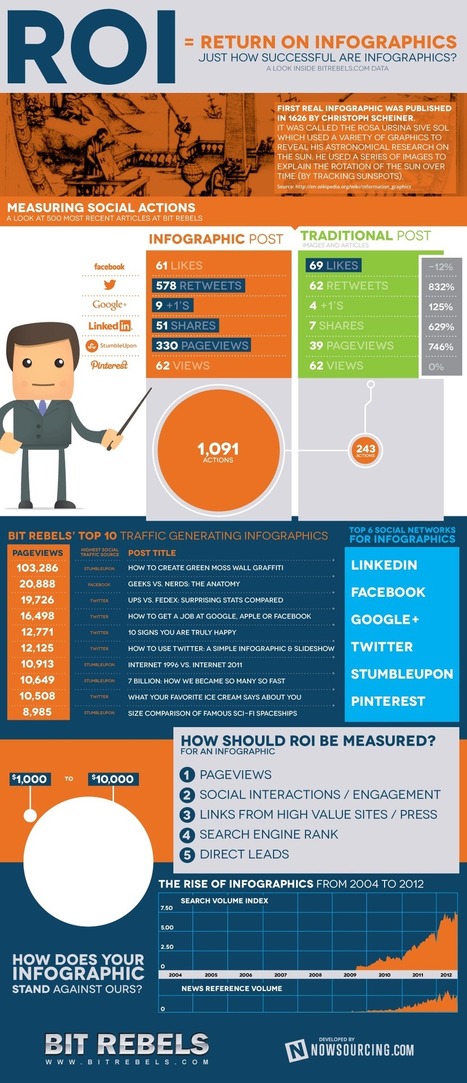 Social media analytics on how infographics impact social media interactions and traffic in comparison to a traditional article.
In the beginning of 2009, the word infographic wasn't well known to people online. Of course, a few people here and there knew what it was, after all, the first infographic was published back in 1626. The phenomenon of the infographic really started to take form in late 2009. It has now become a standing content format on many blogs and news sites across the Internet. But what exactly is the impact of an infographic when it comes to traffic and social media interaction? In order to answer that question, we have to delve into a lot of social media analytics and try to make sense of it all. That is exactly what I have done, and what we will present to you here today.
The impact of an infographic can be measured on many levels, which makes it all just a little bit more complex and complicated to present. With the help of NowSourcing, we have been able to produce an infographic that will compare the traffic and social action impact of an infographic post with a traditional post that does not involve an infographic. It's through social media analytics that a clear image slowly emerges to tell a story that for some has just been a question without an answer.
... We have decided to name our infographic ROI: Return On Infographics, which is the main topic of my research. What is quite clear is that traffic increases significantly and the social media actions (which are actions such as likes, retweets and subs) skyrocket when publishing an infographic in comparison to a traditional article or post.
Trying to determine which social network is best suited for infographics based on the increased amount of social media action, click through rate and traffic was quite simple as well after we accumulated all these social media analytics. It seems to be the natural step after our previous data mining, and it comes as no surprise that LinkedIn is the winner in the race, closely followed by Facebook and Google+. What is surprising though is that Pinterest is so far down on the list. But then again, Pinterest is still being developed, which means this might change in the near future. After all, social media continuously changes and so will the social media analytics.
So as you can see, infographics have a profound impact on both traffic and social actions on websites and blogs around the Internet. No wonder this phenomenon has been continuously growing since back in late 2009 when it started to become popular.