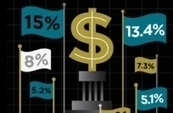 Ron Miller writes
'As social media websites gather ever-growing data stores, they might be better served by finding ways to make profitable use of that data instead serving ads as their chief means of raising revenue. While the data might give them the information they need to serve more targeted ads — although in my experience they still have a ways to go with that — the real value in the site could be the data itself.
Of course, if social sites start selling data to the highest bidder that leaves open questions of data ownership and privacy and finding ways to strip personal identifiers.'
[AS: The collapse of advertising and the collation of data on user preference is only half the story; what about the context within which this data is put to use?
I suspect you only need to refer to your own facebook feed in order to review your friends' vitriolic denouncing of facebook's recent advertising experiments to see that the words 'frying pan' and 'fire' are in conjunction here.
We can move the chairs as much as we want.
It doesn't change the fact that we're working in a post-marketing economy that is increasingly at odds with the promotional concepts that legacy companies are still trying to make sense of in social environments]