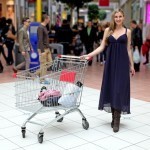 Aeropostale and Adidas show that the store has come into a new era of importance because of digital technology like iPads and mobile devices.
One of the most exciting trends is the blending of the digital world and the real world. Retailers are starting to take note.
Retailers are increasingly using digital technology (tablets and mobile phones) to make the in-store experience better for consumers. They're using mobile and tablets to help people find what they need, skip lines and to help them figure out things like what pair of shoes would look best with the dress they are buying. For retailers, the opportunity is to not only make people happier when they are in the store but also to push people to increase their basket size.
Aeropostale, which targets the teen and tween market, finds that having an in-store digital experience is a must for this demographic.
"Back in the old days, a kid's coming of age was marked by getting his driver's license, or their first car," said Anthony McLoughlin, senior director of interactive marketing at Aeropostale. "Now, the coming-of-age moment is the day that kids get their first mobile phone. They can't wait to be digitally connected to their friends. They want relevant content from brands, so they can share it with their peers."
That's why Aeropostale is opening a new store at Roosevelt Field Mall in Garden City, Long Island, and testing how digital can improve the experience. IPads will be placed in fitting rooms, where customers will be able to select and listen to their favorite music while trying on clothes. Shoppers will also find four iPad kiosks placed throughout the store that feature a user-generated build-your-own outfit guide, which can be emailed to customers and their friends for online purchase. Customers will be able to shop an optimized version of the brand's website for hard-to-find items and place orders to ship home.
According to IDC, there's a major disruption going on in retail right now, and it's called the "omni-channel consumer." Retailers need to become omni-channel in their approach to customer service, marketing and commerce.
READ FULL ARTICLE