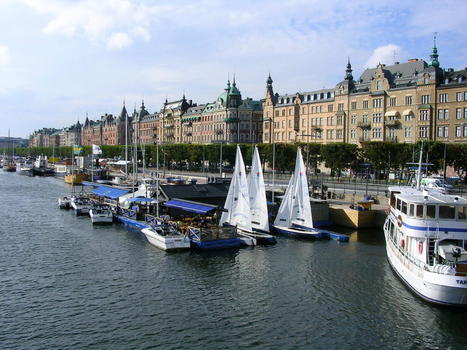 The most popular destination in Sweden is Stockholm, the capital city…. uniquely beautiful, Sweden has many other beautiful cities worth visiting, especially Gothenburg and Malmo.
The Swedish lifestyle brings together a love of nature, good housing, environmental thinking and lots of culture….. all tied up with awareness of health and a strong sense of equality. Efficiency is combined with a laid-back attitude, and old traditions blended with openness for new technologies. Swedes in general work hard but treasure their free time and enjoy long relaxing holidays.
The Swedish lifestyle varies greatly with the seasons. During the darker winter months, there are lights in the windows, evenings in the cinema, and winter sports during the day. In spring and summer, life is lived outdoors…… music festivals, outdoor theatres and open-air museums are popular. Not only are the flowers blooming, the Swedes themselves are too. .……. sprawling over fourteen islands connected by fifty-seven bridges. The verdant Royal National City Park is a major tourist haunt.
Swedish cuisine, like that of the other Scandinavian countries ….Denmark, Norway and Finland, was traditionally simple. Fish, particularly herring, meat, potatoes and dairy products played prominent roles. Spices were sparse. Famous dishes include Swedish meatballs, traditionally served with gravy, boiled potatoes and lingonberry jam, pancakes, lutfisk, and Smörgåsbord, or lavish buffet. Akvavit is a popular alcoholic distilled beverage, and the drinking of snaps is of the cultural importance. The traditional flat and dry crisp bread has developed into several contemporary variants. Regionally important foods are the surströmming or a fermented fish in Northern Sweden and eel in Scania in Southern Sweden……….Plenty of food and drink on a fantastic sojourn!!!!