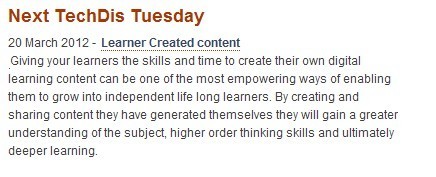 1pm (UK time) today on www.instantpresenter.com/techdisonline100 for fortnightly live discussion on different aspects of inclusive teaching and learning.
This week it's " learner created content" so come along ready to share your experiences, learn from others, enjoy some new ideas or give out some of your favourite tips.
The core of the session lasts around 15 minutes but we normally have lively text chat discussions going on for 30 of 40 minutes afterwards so come for as long or as short as you can - we are always delighted to discuss, explore and debate with you.