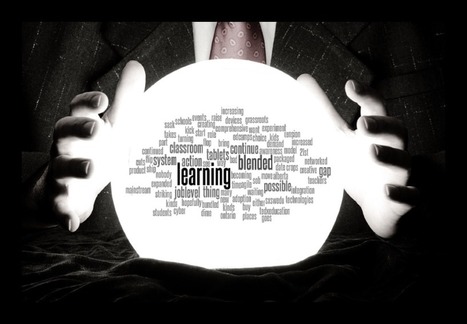 No, we don't really have a crystal ball.. yet… but we are pretty good at seeing emerging themes and based on what we have seen, heard and had a hand in, these are our best guesses for the year ahead.
1. Blended learning opportunities will increase -
The flip will not flop, it will fly. We think that blended learning including the flipped classroom model, will take off this year. Funding cuts and increased demand for choice will raise awareness and the adoption of blended learning will hit the tipping point. And related to this...
2. New technologies will integrate learning regardless of the learners location -
In school and out we will see more integration and cross platform use. Apple will release a universal translator app that will allow us to connect any device to a network Networked tablets will rule the more privileged classrooms. Mobile learning will be expected and video will be used even more than it is now. The blending or transmedia use of technology will blossom.
3. Curriculum will improve -
With more and more educators connecting and sharing resources and their own learning and with big data informing analytics educators have more choices and are able to make better sense of those choices in their instructional design. The shift in instructional design to just-in-time, personalization and differentiation will change the way curriculum is designed. Curriculum will become more agile and responsive and as a result curriculum that doesn't work will be changed quicker. Ok, this may take a bit more than a year, but it is coming.
4. Increased engagement between community, parents, educators, students -
The education system as we know it is like an ocean liner. It just can't turn on a dime. Schools on the other hand are more agile, more manoeuvrable. Principals and teachers are taking on the role of engagement specialists and leading from the middle. We see grassroots movements going mainstream with the likes of TEDxEducation, EdCamps and SXSWEdu leading the way. The hope is that this doesn't lead to rampant commodification.
5. Social and emotional learning and the importance of attachment takes
hold –
We will see, are already seeing, a more unified and comprehensive approach to social/emotional learning. School boards and districts are beginning to talk seriously about self-regulation, applied empathy, and empathy re-boot projects. The idea that schools are a Village of Attachment is a clear steps toward the "paradigm shift from a behavioral approach to a relational one" throughout our educational systems.
Via
Huey O'Brien