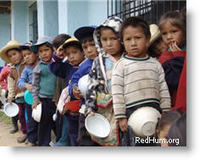 Peru's government said Wednesday that the country's poverty rate declined two percentage points last year, to 25.8 percent.
Peru's national statistics agency, INEI, said that 509,000 people escaped poverty in Peru in 2012. However, 7.8 million people are still living under the poverty line, while 1.8 million of those people are living in extreme poverty.
The decline in poverty last year is part of a general trend that has seen Peru's poverty rate drop from almost 60 percent some 10 years ago.
The INEI said that the decline is due to continued economic growth. Peru's gross domestic product expanded 6.3 percent in 2012, 6.9 percent in 2011 and 8.8 percent in 2010. It is expected to increase by more than 6 percent this year.