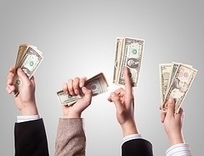 ImpactSpace aims to create a data base of impact investing deals.

His goals, according to the web site, are:
To build the field and attract new investors. Show the world that impact investing is a real and growing market.To gain insight and find solutions. Social and environmental impact depends on a rich ecosystem of stakeholders sharing impact goals, strategies and results.To get credit. Impact investments deliver ancillary benefits in brand, reputation, media coverage and social capital.To help ventures. A financial investment validates the team and the model.To embrace accountability. A robust market can stand up to scrutiny.