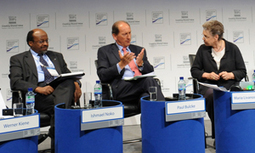 The role of business in development is discussed at Nestlé's Global Creating Shared Value Forum 2012 in New Delhi, India on Monday.
The forum aims to raise awareness ofCreating Shared Value (CSV), which underpins Nestlé's corporate business strategy – creating value for its shareholders while at the same time creating value for society, particularly for the communities in which the company operates.
Nestlé's Chairman Peter Brabeck-Letmathe, Chief Executive Officer Paul Bulcke and the Head of Zone Asia, Oceania and Africa Nandu Nandkishore are taking part in the event along with representatives from government, civil society and business.
The CSV Forum, co-hosted with the Federation of Indian Chambers of Commerce and Industry (FICCI), seeks to highlight the value of CSV particularly in South Asia.