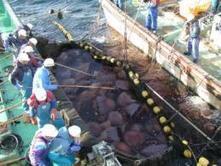 Jellyfish are increasing in the majority of the world's coastal ecosystems, according to the first global study of jellyfish abundance by University of British Columbia researchers.
Jellyfish directly interfere with many human activities – by stinging swimmers, clogging intakes of power plants, and interfering with fishing. Some species of jellyfish are now a food source in some parts of the world.

"By combining published scientific data with other unpublished data and observations, we could make this study truly global – and offer the best available scientific estimate of a phenomenon that has been widely discussed," says Daniel Pauly, principal investigator of the Sea Around Us Project and co-author of the study. "We can also see that the places where we see rising numbers of jellyfish are often areas heavily impacted by humans, through pollution, overfishing, and warming waters."