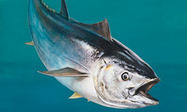 Higher sea temperatures around UK mean bluefin tuna, thresher sharks and anchovies among others are increasingly common...
A new study by marine scientists discloses that many species, some better known to holidaymakers in the Mediterranean and the Canary Islands, are now increasingly commonly seen in the seas off Cornwall, Devon, Hampshire and Sussex, providing vivid evidence that climate change is already changing the natural environment.
Off south-west England, fishermen and biologists see bluefin tuna, triggerfish, stingrays, thresher sharks and ocean sunfish in greater numbers. Off the south coast, and in some cases the North Sea, anchovies, red mullet, sea bass and John Dory are now being caught in commercial quantities as these warm water species shift north.