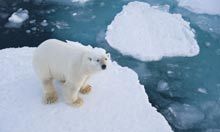 "Nowhere are the implications of global warming more visible than in the Arctic. Ecosystems as well as livelihoods are presently undergoing rapid change. In spite of all the evidence provided by science, most governments in the world have failed to take the necessary action," warns Anders Wijkman, the Swedish MEP who is chairman of this special symposium.
After hearing predictions that 30% of species could be extinct and a fifth of Bangladesh underwater before 2100, he urges the removal of "all subsidies on fossil fuels" and a much stronger commitment to renewable power in measures to build a sustainable future.
Yet outside the room, in the grey Arctic waters, an oil rush looms which threatens more carbon emissions and the risk to the natural world of an accident similar to the 2010 Deepwater Horizon spill in the Gulf of Mexico.
The drilling also threatens to spark territorial disputes and sabre rattling, such as the bellicose noises made by Argentina over British companies seeking oil off the Falkland Islands.