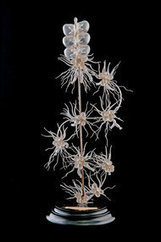 Two 19th-century glassmakers created a collection of anatomically perfect sculptures of marine creatures. Now, a hunt is on to find the animals that inspired them. ...
I've been a marine biologist my entire professional life, spending more than 25 years researching the health of corals and sustainability of reefs. I'm captivated by the magic of sessile invertebrates like corals, sponges and sea squirts — creatures vital to the ecosystem yet too often overlooked in favor of more visible animals like sharks and whales.
The filmmaker David O. Brown and I want to change that. To make a documentary, "Fragile Legacy," we are on a quest to lure these elusive and delicate invertebrates in front of the camera lens.