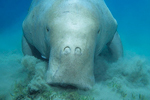 Last week, the East African nation of Mozambique announced it was protecting 10,411 square kilometers (4,020 square miles) of coastal marine waters, making the new Marine Protected Area (MPA) the biggest on the continent.
The protected area, dubbed the Primeiras and Segundas Archipelago ("First" and "Second" islands), includes ten islands as well as mangrove forests, rich coral reefs, and seagrass ecosystems.
"The declaration of Primeiras and Segundas is an incredible achievement for both marine conservation and the people who depend on these resources. Mozambique's coast feeds hundreds of thousands of people.
The stunning reefs, islands, and marine life will now be protected. We won a victory today with the declaration of Primeiras and Segundas—a great triumph for protecting the world's marine environment," Caroline Simmonds, Deputy Director for WWF-US's Coastal East Africa Program, said in a statement. WWF has worked in the region for years toward better management and protection.