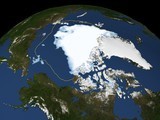 Arctic sea ice is thawing at a record rate, mostly due to global warming, scientists say.
According to research by Francis's team, Arctic sea ice reduction can both raise temperatures in the northern hemisphere and influence the "meander," or flow, of atmospheric jet streams, which are like rivers of air that circulate the globe.
Already, said Francis, the Arctic melt has meant that "these meanders in the jet stream are both getting larger and moving more slowly."
Since jet streams generate and steer storms, she added, their slowing meander can prolong fall and winter weather patterns across the entire Northern Hemisphere.
"Many extreme weather events are associated with weather patterns that are stuck or moving very slowly ... including droughts, cold spells, heat waves," Francis said.