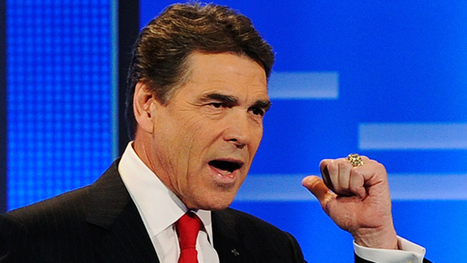 "If they did secede, America should get to keep Austin. And San Antonio. And Willie Nelson." —John Fugelsang
Every year, Texas celebrates Texas Independence Day, where they commemorate their independence from Mexico. In recent years, though, it's become a bit of a pep rally for some state residents who think Texas needs to secede from America — these tend to be guys who really just need to secede from AM radio and high-fructose corn syrup.
Seriously, earlier this year over 100,000 people signed an online petition demanding the Obama White House allow Texas to secede. At one point, even Gov. Rick Perry got in on the action, saying in speeches that Texas had the right to secede if they wanted to. Now, I love Texas. I've got family there, and I always thought this was an awful idea — but if they did secede, America should get to keep Austin. And San Antonio. And Willie Nelson.
Nowadays, Rick Perry's in the news again by trying to bribe American businesses — with low taxes, low regulation and taxpayer funds — to secede from their own states and move to Texas. He's running new commercials and hoping to pilfer enough corporations to help him run for president on job creation in 2016. I'd like to tell an original joke about Rick Perry running for president, but it's hacky, it's been done and — I forget the third thing.
But a Rick Perry candidacy is why I haven't wanted Texas to secede because America really needs a leader who talks about quitting America.
This guy's got a low-wage right-to-work state that's 50th in high school graduations and first in worker deaths.
Now, I'm not here to put Rick Perry down, just to deny him clemency. But the great state of Texas has had some pretty bad PR this month.
Last week, Texas GOP Chair Ken Emanuelson said, "I'm going to be real honest with you: the Republican Party doesn't want black people to vote if they're going to vote 9 to 1 for Democrats."
Used to be in Texas, a man would get arrested for exposing himself like that. But we let it slide.
But then, my friend, came Ezekiel Gilbert. Back on Christmas Eve 2009, he paid $150 for the company of a Craigslist escort. Her name was Lenora Frago, she was 23 and her ad did not guarantee sex, just her time. She decided she didn't want sex with Mr. Gilbert. She left his home, her driver picked her up, and as they pulled away, Mr. Gilbert came out and shot her through the neck. She was paralyzed and died from complications seven months later.
And last week, because of a Texas law that allows people to use deadly force to recover property during a nighttime theft, the jury acquitted him and he walked free.
So what can I say except, 'As of now, Texas, you're free to go.'
Break it off at the panhandle and secede away. We'll miss ya, but if legally murdering women for $150 is how it's gonna be, we're not gonna make you stick around. You can take the NAS, Big Oil, cotton, that new reboot of Dallas and Ted Nugent. I don't even know if Ted lives in Texas, but please take him.
Go off on your own and become the whitest, twangiest, most northernmost province of Mexico. Your sane moral residents will be given free asylum here in America, and Gov. Perry will get to be el presidente del Republica de Tejico. Then he can woo even more American NAFTA jobs south of the border, where there's no pesky minimum wage.
Keep all your guns, ban all your gays and here's Puerto Rico to become the fiftieth star, so we don't have to change the flag.
Oh, and we'll be happy to finish that border fence — only it's gonna be along your northern border. Try crossing and watch those Oklahoma militias go to town on you illegals. We'll beg them not to shoot y'all, but they won't have to listen, because, hey, states' rights!
Now, of course, I'm just kidding. Nobody sane wants Texas to leave. In fact, if you look at the demographics you'll see Texas is our biggest minority majority state. White folks — especially the mean ones — are becoming a minority. Which may be why Rick Perry is so hell-bent on cutting public education funds. But it doesn't matter. Texas is becoming more blue every year. I'm not saying they're about to become an all-solar-vegan-hemp-happy-clappy-gay-marriage-liberal colony, but it appears that within our lifetimes we can look forward to seeing the people of Texas secede — from the likes of Rick Perry.