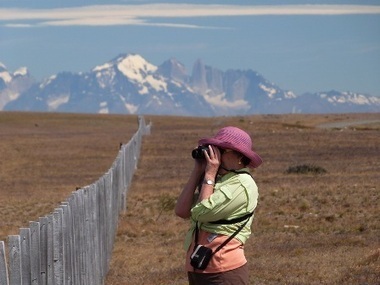 In January 2013, 14 travelers joined Mass Audubon ornithologist Wayne Petersen for our Patagonia birding trip in southern Argentina and Chile.
Over the course of 14 days, we saw the towering spires of the Andes mountains as a backdrop to a soaring Andean condor; emerald waters of the Laguna Sucia with huge Magellanic woodpeckers (South America's largest woodpecker species); and hanging glaciers with torrent ducks diving in the rushing river water.
he new Ice Museum in Calafate, Argentina was particularly amazing and as was the stunningly blue ice on the face of the Moreno Glacier calving right before our eyes.