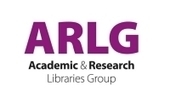 Free event with refreshments
Wednesday 17th April 2013, 4-6pm at The University of Manchester
Speaker: Leo Appleton: Liverpool John Moores University.
This will be followed by tea and the AGM
Please come along and support your newly relaunched ARLG (following the merger of CofHe and UC&R) and take the chance to tell the commitee what you would like to see as a focus for this forthcoming year.
Places are limited to 30 people so to book a place please follow the link above...