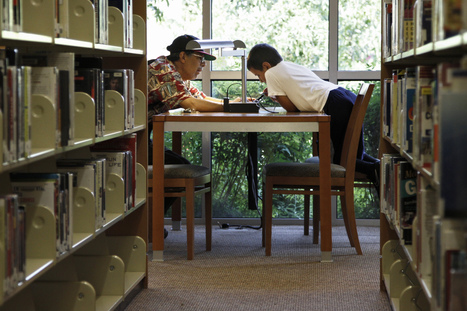 The Federal Communications Commission (FCC) is gearing up for a monumental task: revamping the E-Rate program, which subsidizes broadband connectivity to connect schools and libraries across the US. As the rulemaking process gets underway, various stakeholders (including two FCC Commissioners) have laid out their own proposals, which differ widely in two key areas: funding and establishing national targets for connectivity.
In April, FCC Commissioner Jessica Rosenworcel proposed a substantial upgrade to the program--she calls it "E-Rate 2.0"--in order to help fund next-generation connectivity at schools and libraries across the country. Under both Rosenworcel's plan and as part of President Obama's recently-announced ConnectED initiative, the goal of the new E-Rate would be to provide gigabit speeds to 99 percent of schools by the end of the decade. The plan has been well-received by many educators, although questions remain about where additional funding could come from. Last week, FCC
Commissioner Ajit Pai laid out an alternate vision for E-Rate that focused largely on structural changes to the program.
Commissioner Pai emphasized a "student-centered approach" to reforming E-Rate, suggesting that excess bureaucracy and structural issues lie at the heart of E-Rate's problems. While he highlighted several critical areas where the current program could be improved or streamlined, his proposal to overhaul the current funding structure of the program was arguably the most significant change he presented. At the same time, he challenged one of the central tenets of his FCC colleague's proposal: that a gigabit of bandwidth per 1,000 students is an important target for schools.
The size of the E-Rate program was one key point of difference between the proposals. Without increasing the cap on E-Rate--a program which, as part of the Universal Service Fund, gets its money through contributions on consumer phone bills--Commissioner Pai has suggested that efficiencies in program administration and a redistribution of the current funding will suffice. He proposes a shift to per-pupil funding, with an additional "bump" for rural and low-income students; as he said at Tuesday's event, "because we want a student-centered E-Rate program, we should divvy up the money on a per-student basis."
A more equitable funding system is an important goal, but distributing E-Rate money on a per-pupil basis might not prove effective in achieving equitable service.
Click headline to read more--
Via
Chuck Sherwood, Senior Associate, TeleDimensions, Inc