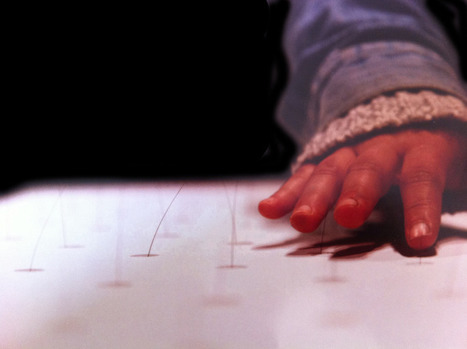 Gallery I
Johnathan Derry:
"I've Been Again" explores the paradoxical relationship between material and message, and between notions of the tragic and comic. It is where these incongruous shifts take place that imagination is captured.
Gallery II
Alison Kotin: "Whisker Organ" (photo)
"Listen Close" is an exhibition of tactile new media works exploring narrative, performance, and musical composition. Touch- and motion-activatedmusic and story interfaces (including an instrument made from cats' whiskers and the voices of a 30-person chorus) add a layer of metaphorand responsiveness to familiar objects and places.
Visitors are invited to touch, listen, and play.
I create participatory works that spark collaborative, unscripted performance and play, as a means to explore the creative potential of interaction. By creating touch and motion activated digital interfaces modeled on musical instruments, I hope to encourage a spirit of curiosity and experimentation, leading participants to reflect on the process of creation as they perform. These open-ended, interactive situations favor chance and ambiguity, adding a layer of metaphor or unexpected responsiveness to familiar objects and places.
http://virtualunrealityproject.com/studio/
Gallery III
Lisa Olson:"Small Tallies "
For an artist interested in finding ways to record bits of everyday experience, the question becomes how to structure a response that remains faithful to specific details but also creates a visually interesting result.