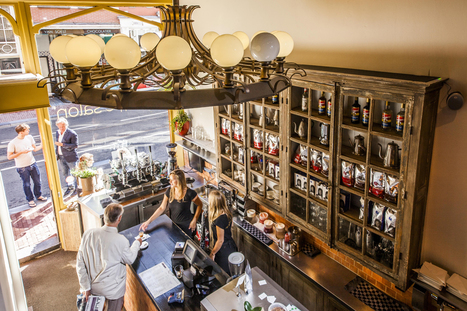 "In Italië is koffie drinken een ritueel waarbij men de tijd neemt om in een salon, onder het genot van het zwarte goud, de actualiteiten van de dag te bespreken of een krantje te lezen." Die visie deelde Renate Verhofstad tijdens de eerste Misset Koffie top 100. Ook de Nederlandse consument weet het 'rustmoment koffie' steeds meer te waarderen. Maar het niveau van de Italiaanse koffiecultuur is niet zomaar bereikt. De Koffie Salon in Amsterdam zit nog het best op het goede spoor en werd uitgeroepen tot eerst winnaar van de Koffie top-100.
Kritische consument
Volgens koffiewatcher Jeroen Veldkamp is de kwaliteit van de koffie de afgelopen jaren behoorlijk is toegenomen: "Veel mensen drinken thuis ook steeds betere koffie. Een kritische consument is de beste manier om de kwaliteit van de koffie omhoog te tillen. Kom bij een Italiaan niet aan met een onverzorgde espresso! De horeca moet dus stappen maken en dat kunnen ze o.a. doen door hun personeel beter te trainen en beter te selecteren op kwaliteit." Jeroen Veldkamp heeft veel kennis van zaken als top-baristo. Een baristo is een soort sommelier, maar dan voor de koffie. Er is inmiddels al sprake van baristo transfers binnen de horeca en dat wordt gezien als indicatie dat bedrijven de kwaliteit van hun koffie steeds belangrijker vinden.
Nog geen absoluut topniveau
De jury maakte een voorselectie op basis van een totaalervaring. daarin werd o.a. de bediening, het concept, de presentatie en natuurlijk 'de koffie' meegenomen. In de tweede selectieronde werd vooral gekeken naar de kwaliteit van de koffie zelf. Daarbij werden een espresso, een cappuccino en een gewone koffie beoordeeld aan de hand van internationale normen. Het hoogste cijfer (6) werd nergens uitgedeeld.
Ondersteuning met kennis
Veel van de koffieschenkende bedrijven ontvangen ondersteuning van hun koffieleveranciers. Die leveren tegenwoordig meer dan alleen koffie, maar verzorgen ook trainingen en bemiddelen en adviseren in de aanschaf van de apparatuur. Koffiebranderij Peeze levert de koffie bij drie bedrijven uit de top-5. Enkele ketens komen meerdere malen terug in de top 100. Doppio deed het erg goed met drie vermeldingen en de publieksprijs voor Doppio Hilversum. Ook Bagels and Beans komt drie keer voor in deze top 100. Deze laatste twee bedrijven werken met een franchiseformule.