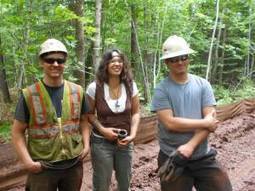 GTac's Militia Allowed to Operate Outside the Law in Wisconsin
Tom Parrella, President of Bulletproof Securities
August 12, 2013 by Barbara With
According to an article in the Milwaukee Journal Sentinel, Governor Scott Walker's office was in touch with the head of Bulletproof Securities before they entered the state and committed a felony by not securing proper licensing to carry machine guns in the Penokee Hills.
Several complaints were filed against BPS with the State Department of Safety and Professional Services and the Iron County District Attorney. However, those were ignored when the department finally granted Bulletproof their permits in mid-August. Iron County District Attorney Martin Lipske said on Friday that he was negotiating a deal with GTac to not prosecute them or BPS if they agree to patrol the area without guns.
"I'm going beyond simply not filing them," said Lipske. "I want some more concessions so that hopefully we don't have to have high-intensity security people like Bulletproof have or acting in a high intensive manner like being armed. If we can get some sort of agreement like that, I feel that then justice will be served."
Bulletproof claimed that needed to break the law and not obtain legal license to do business in the State because of the "threat" caused by a protest that took place at the mining company's core drilling site on June 11.
Photo: Nick Vander Puy : LCO Harvest Camp denizen Felina La Pointe shares fried chicken made at camp with the same GTac drill site workers Bulletproof Securities has been hired to protect from her.