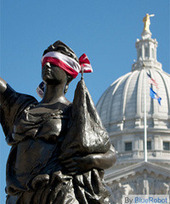 In Walker's first year in office he turned the DNR into an "enterprise agency" with "increased operating flexibility to enable the agency to improve customer service and business support." This shifted staff and resources away from monitoring, oversight and compliance with environmental regulations and created the Office of Business Support and Sustainability at a time when two major threats to clean air and water were ramping up: Frac sand mining and massive Concentrated Animal Feeding Operations (CAFO) with thousands of head of livestock.
DNR officials admit that due to a large number of early retirements when Walker took office, they do not have enough staff to oversee the sand mines or CAFOs. New wetlands and navigable water laws that involve setting up "wetland mitigation banks" whereby developers (like Secretary Stepp, who likes to remind people that she's a business owner and a hunter) can fill in wetlands in one part of the state provided they "create" another one somewhere else pull staff away from the DNR's core mission of protecting the state's resources.
Stepp's budget request includes the addition of two full time "small business environmental assistants" whose sole purpose is to help "job creators" navigate environmental permitting processes "in a protected and confidential manner detached from the permit review staff." Until such time as Walker and Co. can completely trash all environmental protections, the least they can do for business is to provide them with state-sponsored coaching on how to game the system.
The most alarming aspect of DNR's budget request is what it does not include: staff allocations for iron mining permitting and oversight. The mining deregulation bill that was passed earlier this month has eased the way for an enormous mountain top removal project on the shores of Lake Superior in a water-rich environment. Groundwater modeling, rock characterization and other aspects of the permitting process for such a large project are extremely complicated, yet there is absolutely no budget for DNR staff to carry out these tasks should a permit application be submitted.