Scoop.it!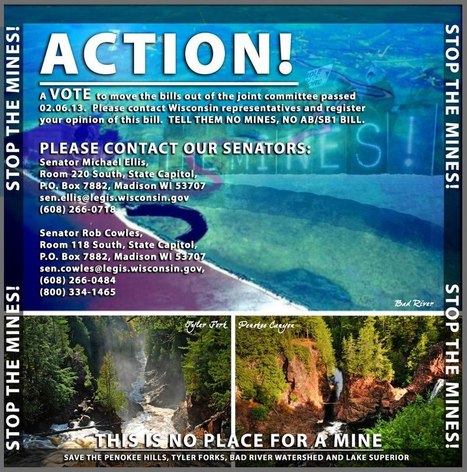 Facebook is a social utility that connects people with friends and others who work, study and live around them.
Sarah LittleRedfeather Kalmanson's insight:
A vote to move the bills out of the joint committee passed 02.06.13. Please contact Wisconsin representatives and register your opinion of this bill. TELL THEM NO MINES, NO AB/SB1 BILL.

We would encourage you ALL to especially contact:
Senator Michael Ellis,
Room 220 South, State Capitol,
P.O. Box 7882, Madison WI 53707
sen.ellis@legis.wisconsin.gov
(608) 266-0718

Senator Rob Cowles, Room 118 South, State Capitol,
P.O. Box 7882, Madison WI 53707
sen.cowles@legis.wisconsin.gov,
(608) 266-0484
(800) 334-1465
So so tiny is it Senator Grothman, as referenced 02.06.13 - Mining Committee Hearing that passed the Bill to enter into session.

"Bad River Watershed, is tiny and nothing to Sen. Grothman: "I hope you ask questions again about the size of the watershed, and look at the tiny amount of wetlands that will be affected." — at Wisconsin State Capitol

If ONE shovel goes into the EARTH, it will DESTROY the OJIBWE people. - ONE Mine that poisons the WATER intoxicates ONE person is NO TINY matter.

RED FLAG #1 .. THERE ARE MANY FLAWS IN THE BILL. THERE SHOULD BE ZERO EXEMPTIONS TO WATER QUALITY!

"295.645(8): EXEMPTIONS TO GROUNDWATER QUALITY STANDARDS. When issuing or modifying a mining permit or issuing OR REISSUING ANY OTHER APPROVAL, the department may grant an exemption from a groundwater quality standard and establish an alternative concentration limit to a groundwater quality standard."