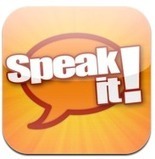 "Text to speech tools provide access to print to struggling readers to support decoding, vocabulary and comprehension skills. With accessibility features of Voice Over and Speak Selection tools integrated into iOS5 on iDevices, text to speech is readily available in many apps (not all) and solidly when accessing Internet-based text using Wi-Fi. The iOS5 speak tools are rather amazing when you turn on Voice Over Triple Click in Accessibility (General>Accessibility>Triple-click Home> Voice Over selected) and have the Speak Selection turned on.
What text to speech options are available when you don't have Wi-Fi, or have text a student needs to access spoken out loud?"
Here are a list of apps with reviews that can level the playing field for learners who struggle with reading.
> Speak-it
> Write & Say
> Knowtilus
> Mr. Talker HD
> SpeakText
> Speak it to Me
> Read&Write Web Apps
With any of these apps, it pays to have earbuds readily available.
Via
Kathleen McClaskey