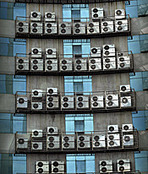 The U.S. has long used more energy for air conditioning than all other nations combined.
But as demand increases in the world's warmer regions, global energy consumption for air conditioning is expected to continue to rise dramatically and could have a major impact on climate change.
by stan cox
The world is warming, incomes are rising, and smaller families are living in larger houses in hotter places. One result is a booming market for air conditioning — world sales in 2011 were up 13 percent over 2010, and that growth is expected to accelerate in coming decades.