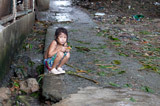 On 7 August 2012, extreme monsoon rainfall devastated Metro Manila in the Philippines, forcing nearly 700,000 people to evacuate their homes.
To mark this year's Earth Science Week and International Day for Disaster Risk Reduction, Christian Aid has produced Big River Rising, an inspiring story that follows 52 year old mother-of-five Belen de Guzman as she nervously monitors the rising water as it threatens Banaba, the informal settlement community where she lives.
Trained by Christian Aid partner the Centre for Disaster Preparedness, Belen helps coordinate the evacuation of her community while her own shantytown home disappears beneath the floodwaters.
Using an interactive multimedia approach, Big River Rising explores how rapid and uncontrolled urban development, mountain deforestation, mining activities and global climatic changes are making Metro Manila and its poorest communities more vulnerable to flooding disasters.