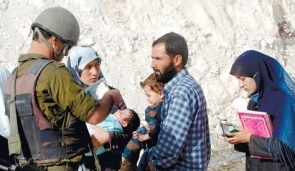 Document obtained by Haaretz reveals that between 1967 and 1994 many Palestinians traveling abroad were stripped of residency status, allegedly without warning.

By Akiva Eldar

Israel has used a covert procedure to cancel the residency status of 140,000 West Bank Palestinians between 1967 and 1994, the legal advisor for the Judea and Samaria Justice Ministry's office admits, in a new document obtained by Haaretz. The document was written after the Center for the Defense of the Individual filed a request under the Freedom of Information Law.

The document states that the procedure was used on Palestinian residents of the West Bank who traveled abroad between 1967 and 1994. From the occupation of the West Bank until the signing of the Oslo Accords, Palestinians who wished to travel abroad via Jordan were ordered to leave their ID cards at the Allenby Bridge border crossing.

They exchanged their ID cards for a card allowing them to cross. The card was valid for three years and could be renewed three times, each time adding another year.

If a Palestinian did not return within six months of the card's expiration, thier documents would be sent to the regional census supervisor. Residents who failed to return on time were registered as NLRs - no longer residents. The document makes no mention of any warning or information that the Palestinians received about the process.

Continue...