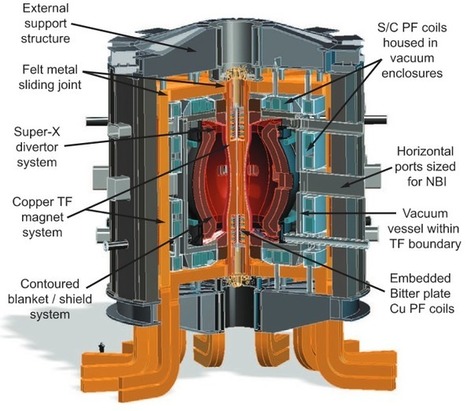 Physicists at the U.S. Department of Energy's Princeton Plasma Physics Laboratory (PPPL)* are building a "star in a jar" — a miniature version of the how our Sun creates energy through fusion. It could provide humankind with near limitless energy, ending dependence on fossil fuels for generating electricity — without contributing greenhouse gases that warm the Earth, and with no long-term radioactive waste.
But that requires a "jar" that can contain superhot plasma — and is low-cost enough to be built around the world. A model for such a "jar," or fusion device, already exists in experimental form: the tokamak, or fusion reactor. Invented in the 1950s by Soviet physicists, it's a device that uses a powerful magnetic field to confine plasma (superhot charged gas) in the shape of a torus.
There are many experimental tokamaks currently in operation, but they all face physics challenges, the PPPL physicists explain. "For example, they must control the turbulence that arises when superhot plasma particles are subjected to powerful electromagnetic fields. They must also carefully control how the plasma particles interact with the surrounding walls to avoid possible disruptions that can halt fusion reactions if the plasma becomes too dense or impure."
So researchers at PPPL and in and Culham, England are looking at ways of solving these challenges for the next generation of fusion devices, based on compact spherical tokamaks. They suggest that these could provide the design for possible next steps in fusion energy: a Fusion Nuclear Science Facility (FNSF) that would develop reactor components and also produce electricity as a pilot plant for a commercial fusion power station.
The detailed proposal for such a "jar" is described in a paper published in August 2016 in the journal Nuclear Fusion. "We are opening up new options for future plants," said lead author Jonathan Menard, program director for the recently completed National Spherical Torus Experiment-Upgrade (NSTX-U) at PPPL. The $94-million upgrade of the NSTX, financed by the U.S. Department of Energy's Office of Science, began operating last year.
Spherical tokamaks are compact devices shaped like cored apples, compared with the bulkier doughnut-like shape of conventional tokamaks. The increased power of the upgraded PPPL machine and the soon-to-be completed MAST Upgrade device "will push the physics frontier, expand our knowledge of high temperature plasmas, and, if successful, lay the scientific foundation for fusion development paths based on more compact designs," said PPPL Director Stewart Prager.
Via
Dr. Stefan Gruenwald