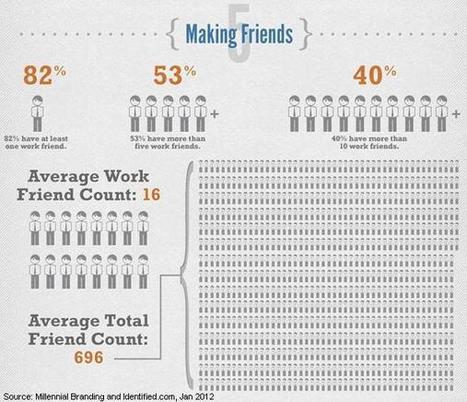 Social Media - Social networking is blurring the lines between people's personal and professional lives, particularly among younger generations, according to a new study by Millennial Branding.

According to a new study by Millennial Branding.
Gen-Y Facebook users (those now roughly age 18-29) often use their Facebook profiles as an extension of their professional personalities, even as they socialize with family and friends, the study finds.

On average, Gen-Y Facebook users are connected to 16 co-workers via Facebook, although that number is a relatively small percentage (2.3%) of their total average friend count (696):
Below, additional findings from Millennial Branding's study of 4 million Gen-Y Facebook profiles, gathered via Identified.com's database on Facebook.

Gen-Y Facebook Users Define Themselves by Colleges, Not Workplaces
Only 36% of Gen-Y Facebook users list an employer on their Facebook profile, whereas 80% list at least one school.

Short work stints are common: Gen-Y Facebook users spend an average of just over 2 years at their first job—and, interestingly, "owner" is the fifth-most popular title among this entrepreneurial generation.

Read more:
http://www.marketingprofs.com/charts/2012/6797/facebook-where-gen-ys-personal-and-work-lives-converge#ixzz2DWVPyZeH
Via
Brian Yanish - MarketingHits.com