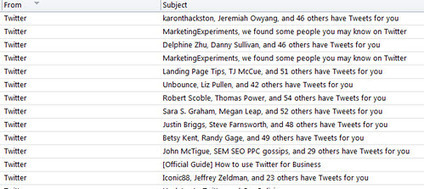 Basic/ Digest...
Benefit #1. Social media is traffic, PPC is a billboard, but email is a fork in the road
Email, on the other hand, is a fork in the road. It forces a decision. Even if people simply delete an email without opening it, they took an action. While they were physically taking an action, your subject line had an opportunity to encourage an open.
Benefit #2. Build your case over time (automatically)
By setting up a drip email nurturing campaign, you can take prospects from having a limited interest in your company to fully embracing your company's value proposition – from tire kickers to warm leads.
Benefit #3. Learn about your customers
By conducting A/B testing of email messages, the campaign learned what really resonated with its audience and generated more than $500 million in digital donations.
Benefit #4. ROI
For the bottom-line focused business leader, this one trumps the first three benefits combined.
___________________________________
► Receive a FREE daily summary of The Marketing Technology Alert directly to your inbox. To subscribe, please go to http://ineomarketing.com/About_The_MAR_Sub.html ; (your privacy is protected).
Via
marketingIO