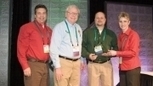 Important pre-training steps include:
• Conduct a thorough training-needs analysis. This includes a job-task analysis to uncover training needs and set training standards; an organizational analysis both to assure training aligns with strategic priorities and to determine what obstacles, if any, need to be addressed to create a workplace that supports training effectiveness; and a person analysis to determine who is most likely to benefit from training as well as the best means by which to provide training.
"It is, however, important to recognize that training is not always the ideal solution to address performance deficiencies, and a well-conducted TNA can also help determine whether a nontraining solution is a better alternative," the authors state. They identify a training needs analysis as likely the most important step in developing and delivering training.
• Communicate to students how the training is relevant to successful job performance, but be realistic in setting expectations.
• Develop appropriate attendance policies for training.
• Encourage supervisors and team leaders to hold conversations with students in advance of the training. Involve these leaders early so they can provide accurate information and motivation.
• Schedule training close to when students will be using the skills to help mitigate skill decay.
Training works, the authors say, and "what the organization does around it matters."
Via
Don Dea